Walter Redinger 1940-2014
---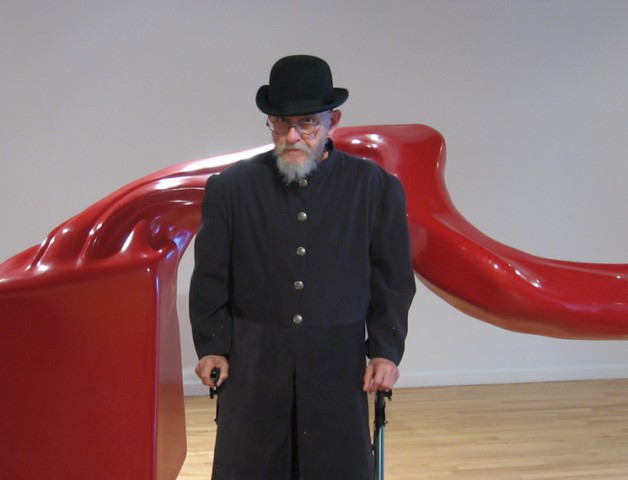 We are deeply saddened to announce the passing of Canadian sculptor Walter Redinger.
There will be a memorial service on Saturday, July 19 at the West Lorne Chapel of Denning Funeral Directors, 202 Main Street, West Lorne. Visitation from 12-2pm. Service at 2pm.
One of six children of a tobacco farmer, Walter Redinger spent all but a few years of his life within miles of where he was born in 1940 in Wallacetown, in South Western Ontario. Walter spent a good deal of time exploring the rocky shores of Lake Erie, helping out on the tobacco farm and drawing with his friend and sculptor, Ed Zelenak.
At 17, he spent a year studying commercial art at Beal Technical College in London, Ontario. With no formal training in sculpture under his belt, he began to make sculpture in the family farm's tobacco drying huts.
He was taken up by the prestigious Isaacs Gallery in Toronto and would have his first one man show in 1963.
The late sixties and early seventies would see Walter rise to national and international prominence, culminating in his selection as one of two artists to represent Canada at the Venice Biennale in 1972. His studio at the time would resemble a busy factory – to keep up with his prodigious production of the period, he often needed as many as six assistants.
An active sculptor for more than 40 years, Walter Redinger is best known for his large organic fibreglass sculptures and fearless drawing. His sculptural forms are primal, highly personal, unrestrained and visceral. His most recent major solo exhibition "Return to the Void" at MOCCA in Toronto & Museum London in London, included his monumental "The Ghost Ship", a 42 foot long organic sculpture made of fibreglass and wood which took over 20 years to complete.
Redinger's work is in countless public galleries including the National Gallery of Canada, Art Gallery of Ontario and Art Gallery of Hamilton.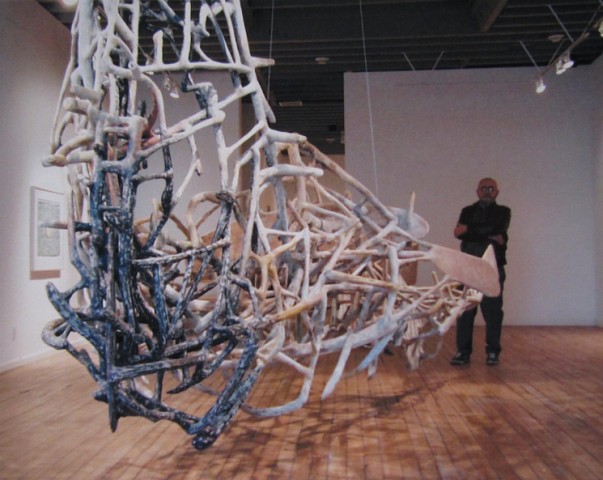 Walter Redinger with "The Ghost Ship" in 1998 at Michael Gibson Gallery
The Michael Gibson Gallery enjoyed many exhibitions with Walter including the following:
1998 — Walter Redinger & Paterson Ewen
2004 — "Small and Mighty", small works by major artists
2008 — Walter Redinger & David Urban
2010 — Paterson Ewen & Walter Redinger