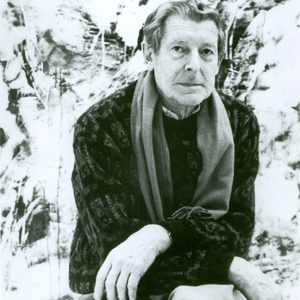 Gordon Smith (1919-2020) was a Vancouver-based artist known for his large-scale abstracted landscapes who continually expanded the dialogue between abstraction and representation.
Born in England, Smith came to Canada in 1933 and studied at the Vancouver Normal School, Vancouver School of Art and the Winnipeg School of Art under Lionel FitzGerald. At the outbreak of the Second World War Smith enrolled in the Royal Winnipeg Rifles and fought oversees until 1943 when he was badly injured.
Smith settled in Vancouver and studied at the Vancouver School of Art and spent the summer of 1951 at the California School of Fine Art in San Francisco. This exposure to American painters would influence his work and set himself apart from the other Vancouver paintings at that time.
Over his 75-year career, Smith was noted for his impressionistic style that was rooted in landscape. Always searching for a balance between abstraction and the land, his tangled paintings connect line, texture and colour. From the 1950s impressionistic work to a switch in the mid 1960s to hard edge abstraction that focused on colour theory, his paintings always were visionary and rooted in the love of painting.
Gordon Smith was named a member of the Order of Canada in 1966, received the Audain Prize for Lifetime Achievement in the Visual Arts in 2007 and presented with the Governor General's Award in the Visual and Media Arts in 2009.
His work is in the collections of the National Gallery of Canada, Vancouver Art Gallery, Musee des beaux-arts du Montreal, Smithsonian Institution, Washington and the Victoria and Albert Museum in London, England.
Smith passed away in Vancouver at the age of 100 in 2020.