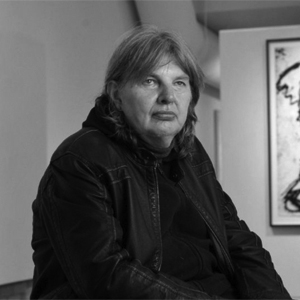 John Scott (1950-2022) is one of Canada's most prolific artists known for his raw, visceral paintings that comment on the dark side of politics, war and humanity.  Combining counterculture aesthetics of the late 1970s and 1980s, Scott presents an apocalyptic vision of the world.
Born in Windsor, Ontario, Scott was educated at the Ontario College of Art, the Toronto arts college where he taught for 38 years.  His work came to notice in 1976 in a group show at Sable-Castelli Gallery in Toronto.  In 1981 he was represented by Carmen Lamanna Gallery.
Using black paint and charcoal as his main medium, Scott often repeats childlike motifs such as the "Dark Commander" and the "Terrified Bunny", a part-rabbit / part-human figure.  Hand and boot marks, misspellings and ripped or torn paper are also common features.  He is also well known for his famous "Trans-Am Apocalypse No 2" (1993), a modified black-painted Pontiac Trans-Am with the Book of Revelations etched onto the surface (collection National Gallery of Canada).
Scott has had many solo and group shows, both in Canada and abroad, including a 12-year retrospective titled "John Scott: Edge City", organized by the Robert McLaughlin Gallery in Oshawa in 1994.  In 1997, John Scott: Engines of Anxiety, was curated by David Liss for the Gallery of the Saidye Bronfman Centre for the Arts and the Montreal Museum of Fine Arts.  These shows culminated in Dark Commander: The Art of John Scott, a 40-year retrospective organized by associate director Daniel Strong for The Falconer Gallery, Grinnell College, Iowa in 2014 with a major, 50-page book catalogue.  This two-part exhibition travelled to McMaster Museum of Art and the Art Gallery of Hamilton in 2015-2016.
Scott has exhibited extensively across Canada for the past 40 years and is collected by almost every major institution in the country including the Art Gallery of Ontario and the National Gallery of Canada.  Scott's work is also held in numerous museum and private collections outside of Canada including the Museum of Modern Art, New York.
He is the recipient of the inaugural Governor General's Award in Visual Arts and Media in 2000.