Mark Dicey "Confluence" — June 15 – July 24, 2021
---
This is our second solo exhibition for Calgary abstract painter Mark Dicey.  Painting, the history of painting, and especially the history and development of abstraction are Dicey's passion.
For our exhibition, Dicey set out, specifically, to paint a body of work that were variations of similar sized canvases.  That restriction allowed him the freedom to paint unrehearsed, in an instinctual performance, where action, memory and materials merged.
His natural environment also became an influence with the paintings in "Confluence".  In Calgary, the Bow and Elbow rivers run through the centre of the city.  Dicey has used the organic shape of the connecting rivers as both a metaphor and also as a geometric shape that is repeated throughout the paintings.  Though the river is used as an image for Dicey, there is no specific narrative element with the paintings.  Rather, they are based on a collection of observations, metal notes and a lifetime spent studying abstraction.
He states:
The title of my new exhibition is 'Confluence', an enchanting word that is significant to me for a number of reasons.
The city I live in is Calgary, Alberta where two rivers, the Bow and the Elbow flow together. The confluence of the two is a wonderfully physical visual that I think about and metaphorically relate to in my painting practice – a convergence of organic and geometric vocabulary.  Conscious / unconscious exploration.
The thought process and working methods I use to pursue my singular interest in Abstraction are an assemblage of the materials I use and my touch or handling of it. Shape, colour, line, surface and edge are brought together through the interactive painting process juxtaposing both geometric and organic elements. How the paint is applied and manipulated is of utmost importance – at times, free hand, free flowing shape, line and edge, and in contrast, tight precise hard edge line and shape.
Each painting in this body of work informed and influenced each other. Instinctively I pursued the directions allowing the response, give and take, arising from the process. Like the flow of two bodies of water converging, mingling, to create one even more powerful form.
---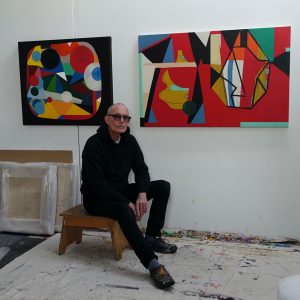 Calgary painter Mark Dicey was born in 1959 and graduated from the Alberta College of Art in 1983.
Dicey has been described as a community builder, dedicating himself for over 30 years to his diverse art practice and the Calgary arts community.  Since 1985, he has exhibited his work extensively in Calgary, Banff, Lethbridge and Edmonton.  Most recently in 2018, the Nickle Galleries at the University of Calgary curated a solo exhibition (with catalogue) for Dicey, which included recent paintings as well as a display of works on paper and sketchbooks that fuel the paintings.
An avid drawer, Dicey sketches daily.  The sketchbooks go with him everywhere and act as the foundation for his studio painting.  Collaboration with other artists has also been a large part of his practice through the years.  Dicey is part of a drawing trio, "Drunken Paw", and co-founded the Elephant Artist Relief, a fund that supports Calgary artists who need emergency help for health issues.  As a young artist, Dicey was active in Calgary's experimental artist-run centres and has a history of performance, installation, music, teaching and curating.  Painting, however, with an emphasis on abstraction, has been the main focus of Dicey's art practice for more than 35 years.
His work is in many collections including the Canadian Embassy to Belgium, Alberta Foundation for the Arts, Royal Bank of Canada, Scotia Bank, City of Calgary, and Nickle Galleries.