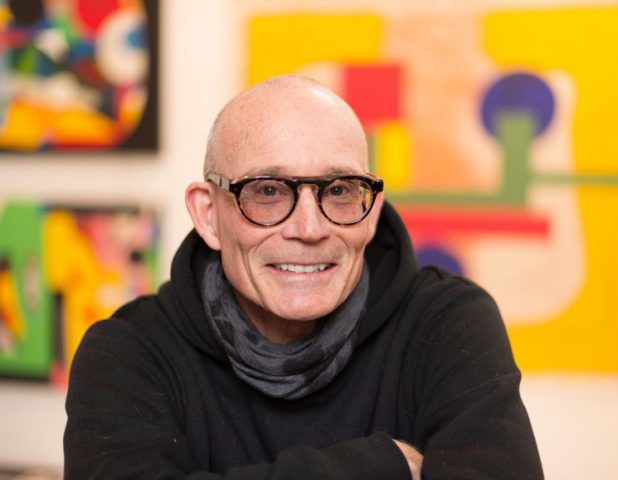 Calgary painter Mark Dicey was born in 1959 and graduated from the Alberta College of Art in 1983.
Dicey has been described as a community builder, dedicating himself for over 30 years to his diverse art practice and the Calgary arts community.  Since 1985, he has exhibited his work extensively in Calgary, Banff, Lethbridge and Edmonton.  Most recently in 2018, the Nickle Galleries at the University of Calgary curated a solo exhibition (with catalogue) for Dicey, which included recent paintings as well as a display of works on paper and sketchbooks that fuel the paintings.
An avid drawer, Dicey sketches daily.  The sketchbooks go with him everywhere and act as the foundation for his studio painting.  Collaboration with other artists has also been a large part of his practice through the years.  Dicey is part of a drawing trio, "Drunken Paw", and co-founded the Elephant Artist Relief, a fund that supports Calgary artists who need emergency help for health issues.  As a young artist, Dicey was active in Calgary's experimental artist-run centres and has a history of performance, installation, music, teaching and curating.  Painting, however, with an emphasis on abstraction, has been the main focus of Dicey's art practice for more than 35 years.
His work is in the collections of the Canadian Embassy to Belgium, Alberta Foundation for the Arts, City of Calgary, Nickle Galleries, Royal Bank of Canada and Scotiabank.
(photo of Mark Dicey: Don Molyneaux, 2021)
Painting, the history of painting, and especially the history and development of Abstraction are Dicey's passion.
His abstract paintings have no pre-planned direction other than the oil medium and size of canvas.  His process becomes an unrehearsed, instinctual performance, where action, memory and materials all come together.
His first marks are made with both conte and paint.  He uses shape, line, colour and texture to pursue a visual rhythm to the layered composition.  He states: "with the marks, I assess, pursue, guide, control and manipulate.  I work the composition in its entirety, rigorously working to make every square inch exist to support the whole".  Through this process, the painting is built from interacting and observing with what is taking place.
Dicey's aim is for a viewer to observe the working process and to see the history of the paintings' making.  He stresses that the abstract shapes and colour relationships are from his day-to-day observations, not from a pre-conceived narrative or plan.
In addition to his studio painting, Dicey has a daily routine of drawing in his various sketchbooks.  The books are used to inform his visual vocabulary and influence and contribute to the canvas paintings.  Using collage, pencil crayon, conte, gouache, watercolour, and acrylic, the abstract sketches allow him to explore free flow, un-precious directions.  Dicey says: "there is nothing to lose.  It is easy to push through, turn the page or jump to another book.  There are usually three to five books on the go at a given time and once completed, the "bookworks" become artworks in their own right."
Born 1959 in Calgary, AB
Education 1979-1983 Alberta College of Art, Calgary
Selected Solo Exhibitions
2021, "Confluence", Michael Gibson Gallery, London, ON
2020, "Rhythm Section", Jarvis Hall Gallery, Calgary, AB
2019, "Paintings", Michael Gibson Gallery, London, ON
2018, "Paperwork", Jarvis Hall Gallery, Calgary
2018, "Each Painted Document", Nickle Galleries, University of Calgary, (Michele Hardy, curator)
2017, "Traffic", Jarvis Hall Gallery, Calgary
2014, "forming", Jarvis Hall Gallery, Calgary
2011, "River Tour", Jarvis Hall Fine Art, Calgary
2010, "Directions of Thought", Paul Kuhn Gallery, Calgary
2008, "Chair Painting", Carpet 'n' Toast Gallery, Calgary, (Shelley Ouellet, curator)
2008, "Resonant Voyage", Paul Kuhn Gallery, Calgary
2001, "dr(aw)ummingsequence*2001*", mixed media installation, performance and sound exhibition, STRIDE Gallery, Calgary
1986, "MARK DICEY: RECENT WORK", Paintings/drawings/assemblage, Exposure Series, Off Centre Centre, Calgary
Selected Group Exhibitions
2021, "Group Exhibition", Norberg Hall, Calgary, AB
2020, "Anniversary Exhibition/10 Years Later", Jarvis Hall Gallery, Calgary, AB
2020, "Chroma II", Michael Gibson Gallery, London, ON
2019, "together but apart/summer group exhibition", Jarvis Hall Gallery, Calgary, AB
2018, "Land-People-Movement: Selections from the Collections of Nickle Galleries", University of Calgary (Nickle Galleries) Christine Sowiak, curator
2017, "The Story So Far", Exhibition of Artists' Books, SNAP Gallery, Edmonton, AB curated by Sara Norquay
2017, "Mountain Dew", Banff Centre For Arts and Creativity, Project Space, BAiR Residency, Banff, AB
2015 "sought", Jarvis Hall Fine Art, Calgary (Arseneault, Beal, Dicey,Dzama, Glabush, Kiss, Los-Jones, Murray, Santos, Somerville, Tetz, Tiggelers,Will)
2014 – "MADE IN CALGARY: THE 2000's", Glenbow Museum and Nickle Galleries, University of Calgary – Curated by Katherine Ylitalo
2013 – "MADE IN CALGARY: THE 1980s", Glenbow Museum, Calgary – Curated by Jeffrey Spalding
2013, "Made In Alberta: Part IV", The Art Gallery of Calgary
2007, "HIT OR MISS: An Exhibition of Contemporary Drawing", an exhibition examining new trends in contemporary drawing, curated by John Will and Chris Cran – Triangle Gallery, Calgary
2000 SILVER –celebrating 25 years of artist-run centres in Calgary", Illingworth Kerr Gallery, ACAD and The NEW Gallery, Calgary
1988 "ELEMENTAL INSTINCTS: A MATTER OF COURSE", installation, "Habitable Putrese", The Nickle Arts Museum, U of C, Calgary –catalogue
1986 "Points North", painting/assemblage, Southern Alberta Art Gallery, Lethbridge (curated by Joan Stebbins) catalogue
1985 "THE FIRST TEN", painting/assemblage, 10th anniversary exhibition of Off Centre Centre at Off Centre Centre, Calgary – catalogue
Publications and Awards
2019 – Alberta Foundation for the Arts Travel Grant
2018 – ACAD Alumni Legacy Award
2018 – Mark Dicey Galleries West on-line feature, Katherine Ylitalo
2018 – Mark Dicey, Each Painted Document catalogue, Michele Hardy, PhD, curator. Writing by Michele Hardy and Grant Poier
2018 – Mark Dicey interview in Jimon Magazine, on-line arts publication
2018 – Alberta College of Art & Design Alumni Legacy Award
2008 – Canada Council for the Arts Research Creation Grant
2007 – Alberta Foundation for the Arts Project Grant
2006 – included in publication (includes CD-R): "An Alberta Art Chronicle: Adventures in Recent & Contemporary Art" by Mary-Beth Laviolette, Altitude Publishing, Canmore, Alberta
2002 – Alumni Award of Excellence June 13, 2002 by the Alberta College of Art & Design as part of their 75th Anniversary celebrations
2002 – "The Order of the Black Belt in Thinking" Award, Chuck Stake of Chuck Stake Enterprizes
Special Projects/Commissions/Residencies
2018 – MD painting in the City of Calgary Collection reproduced on a bus shelter at Heritage Drive and 11th Street SE, Calgary. Painting: "Beacon", 2009. City wide project reproducing works by many local artists.
Residency: BAiR Spring Intensive in Visual + Digital Arts, Apr.24-May.19, 2017,
Banff Centre for The Arts and Creativity, Banff, Alberta
Album cover/CD image for musical group Ghost Keeper, Sheer Blouse Buffalo Knocks, 2017
Participant: Emma International Collaboration – Saskatchewan – 2008, 2010, 2012 and 2014
Commission: Painting, Giotto's Table, 2014, 43 x 130 inches, Earl's Tin Palace restaurant, Edmonton, AB
Artwork reproduced in Alberta Views Magazine – June, 2013
Commission: Banner Project, June, 2010 – City of Calgary 16th Avenue Urban upgrade project 2010 – City Transportation
Moleskine Sketchbooks (International) – selected image by MD used as cover template for Moleskine, January, 2010
Feedback Zine #4 (Calgary, AB) – Cover image by MD – January, 2010
Commission: Creative Kids Museum, Telus World of Science, Calgary June through August, 2006 Construction of "Resonant Voyage" – interactive percussive sound room (installation) for kids
Collaborative Groups/Organizations past and present
drunken paw, drawing, Mark Dicey, Leslie Sweder, Janet Turner
Aeolian Recreational Boundary Institute, environmental conservancy
volunteering, special projects, Michael Benoit, Mark Dicey, Christina Greco, Doug Haslam
The SKEP(tic)KS performance, curating, installation, Don Mabie, Geoff Hunter, Cori Stent, Grant Poier, Mark Dicey, Jeff Viner
Elephant Artist Relief, co-founder of financial aid organization for artists in need
Past board member/past president of The NEW Gallery and Off Centre Centre, an artist-run centre, Calgary
Musician in music/sound/performance groups: Street of Crocodiles, tokyosexwhale, Tomato Tomato, scum de terre, Super Deluxe Gas Jockey, Three Questions, darklily.
Collections
Alberta Foundation for the Arts
Canadian Embassy, Belgium
Fairmont Chateau Lake Louise
City of Calgary Art Collection
Glencoe Club, Calgary
Earl's Tin Palace, Edmonton
Nickle Galleries, University of Calgary
Poole Law
Royal Bank of Canada
Scotiabank
Private and corporate collections