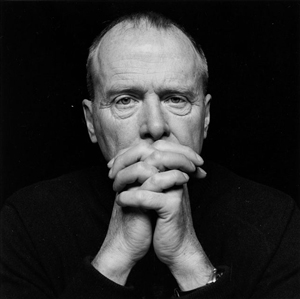 Alex Colville (1920 – 2013) is one of Canada's best-known artists whose photo realist paintings and prints and rigorous approach tell a specific human narrative.   Colville explores themes of loneliness, isolation, work, leisure, estrangement and love all within a tightly static image.  His theatrically staged works are often surreal and are truly captivating.
Born in 1920 in Toronto Colville attended Mount Allison University from 1938-1942 where he graduated with a BFA.  There, he married Rhoda Wright, his wife until her death in 2012.  In 1942 he enlisted in the Canadian Army and became an official Canadian war artist in 1944.
After the war, Colville returned to New Brunswick and taught at Mount Allison from 1946 to 1963.  During his time teaching, he developed a unique realist style that became known as "Maritime Realism".  Through his own art and his teaching he influenced a generation of artists that adopted a similar style.
Often anxious in tone, his paintings capture moments from everyday life set within a carefully constructed stage.  Many works involve animals and the human relationship to animals.  Some of his most famous images include "To Prince Edward Island" (1965), "Horse and Train" (1954), "Couple on the Beach" (1957), "Cyclist and Crow" (1981).  He remains one of Canada's most iconic and most recognizable artists.
Exhibited extensively throughout his lifetime, Colville exhibited at the Tate Gallery in London and represented Canada at the Venice Biennale in 1966.  The Art Gallery of Ontario organized an international touring retrospective in 1983; the Montreal Museum of Fine Arts organized a survey exhibition of paintings and prints in 1994; and the National Gallery of Canada organized a solo exhibition in 2000.  More recently, Tom Smart curated a touring exhibit between 2003-2005 called "Alex Colville: Return" and the Art Gallery of Ontario toured a solo "Alex Colville" in 2014-2015.
He was named an Officer of the Order of Canada in 1967 and a Companion in 1982.
Alex Colville's work is found in many collections including the Art Gallery of Nova Scotia, the Cape Breton University Art Gallery in Sydney, Nova Scotia, the New Brunswick Museum, Saint John, the Museum of Modern Art in New York, the Musée National d'Art Moderne in Paris, the National Gallery of Canada in Ottawa, the Centre National d'Art et de Culture Georges Pompidou in Paris, the Wallraf-Richartz Museum in Cologne and the Kestnergesellschaft in Hanover, Germany.
(Photo: Arnaud Maggs)