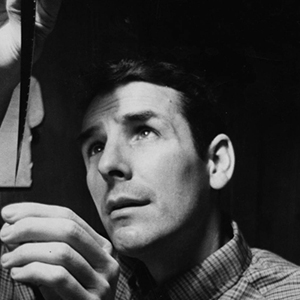 Jack Chambers (1931-1978) was a Canadian artist and experimental filmmaker known for his photo-realist "perceptual" style.
Born in London Ontario, he first studied art at H. B. Beal Technical School.  In 1953 Chambers travelled to Europe to pursue further art training, visiting Italy, Austria, and France, even turning up unannounced at the home of Pablo Picasso.  Chambers eventually made his way to Spain where he graduated from the Royal Academy of Fine Arts in Madrid.  Spain was important to both Chambers' development as an artist and to his personal life.  There, he converted to Catholicism and married his wife Olga, the subject of many of his paintings.   He also became introduced to concepts of realism.
In 1961 Chambers returned to London and was amazed at the thriving art scene led by fellow artist and friend Greg Curnoe.  In the 1960s Chambers experimented with film, aluminium paint and plastics in his artwork.  Photography always played an important role and was further solidified when he published his theory of "Perceptual Realism" in ArtsCanada magazine in 1969.  He believed that "perceptual realism is a profound reflection on primary sensory experience, not simply a reproduction of it."  Examples of his theory can be seen in his famous paintings "401 Towards London No.1", "Sunday Morning No. 2" and his "Lake Huron" series.  He was not interested in painting in a photorealistic way, rather believed in the conveying the spirit and sensory experience of a place.
Jack Chambers was also a strong believer in the professional standing of artists.  In 1967-68 Chambers, along with fellow artists Ron Martin, Kim Ondaatje and Tony Urquhart, founded the Canadian Artists' Representation (CAR, later CARFAC).  The organization continues to work to improve the professional standing of artists in Canada by collectively demanding recognition of artist copyright and associated fees.
In 1969 Chambers was diagnosed with Leukemia.  Thinking that he only had a short time to live, he fought his illness for another nine years, travelling the world and working towards securing recognition (financial included) for Canadian artists.
In 1970 the Art Gallery of Ontario and the Vancouver Art Gallery curated a retrospective of his work.  More recently, in 2011, the Art Gallery of Ontario held a retrospective of his work, "Jack Chambers: Light, Spirit, Time, Place and Life", introducing his remarkable career to a new audience.  His artwork is in the permanent collections of the National Gallery of Canada, Art Gallery of Ontario and Museum London.
Jack Chambers passed away at the age of 47 in April 1978 in London, Ontario.