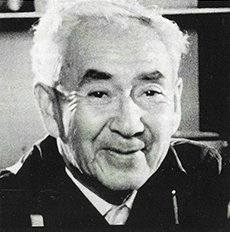 Angus Trudeau (1908-1984) was an Anishinaabe self-taught artist from Manitoulin Island who painted the ferryboats, lake freighters, logging camps and small community villages in and around the island.
Trudeau spent his working life as a sailor and a cook aboard Lake Huron commercial ships and painted during his spare time.   Fascinated by steam ships and lake boats, he painted from memory and from his collection of old postcards and photographs of old ships. His paintings often incorporated a variety of media, including collage, and are lively and vivid in sensibility.
Trudeau was represented by the Isaacs Gallery and had solo shows in 1976, 1978 and 1980. In 1986, Ian Thom organized an exhibition "Angus Trudeau's Manitoulin" for the McMichael Canadian Art Collection, which circulated across Canada.
His work is in the public gallery collections of the Beaverbrook Art Gallery, McMichael Canadian Art Collection and Art Gallery of Windsor.