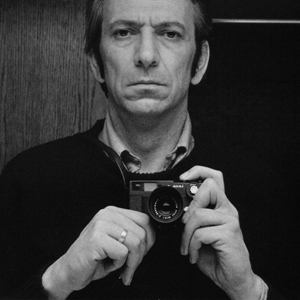 Charles Gagnon (1934-2003) was one of the generation of Montreal artists born during the 1930s that included Claude Tousignant, Guido Molinari and Yves Gaucher.
At a time when other Montreal artists were looking to Paris, Gagnon was heavily influenced by his time spent in New York from 1955-1960. Exposed to the Abstract Expressionists, jazz and experimental film in New York, Gagnon stood out from the other Montreal abstract painters, and explored various media such as film, photography, collage, box constructions and painting.
Throughout his career, Gagnon explored concepts of time, space and contrasting surfaces, which was heavily influenced by his interest in photography.   His paintings are constructed formally, similar to composing a photograph, with bands of colour, borders or frames within frames. The gestural abstractions have a strong physicality to them, and are beautifully nuanced in their subtleties.
Working in series, Gagnon's work fell into the following periods: the "white paintings" (1967-1969), "Markers / Marqueurs" (1973-1974), the "Splitscreenspace" series (1975), "Cassations" & "Inquisitions" (1976-1983) and the "word paintings" (1986-1990).
During his lifetime, two major touring retrospectives of his work were organized: "Charles Gagnon / Works 1956-1978" by the Montreal Museum of Fine Arts in 1978 and "Charles Gagnon: A Retrospective" by the Musée d'art contemporain de Montréal in 2001.
His works are represented in several public collections including the National Gallery of Canada, the Art Gallery of Ontario, Vancouver Art Gallery and the Hirshhorn Museum and Sculpture Garden in Washington.
Charles Gagnon received the Chevalier, Ordre du Quebec in 1991 and the Governor General's Award in Visual and Media Arts in 2002. Charles Gagnon passed away in 2003.
(Photo: Charles Gagnon)