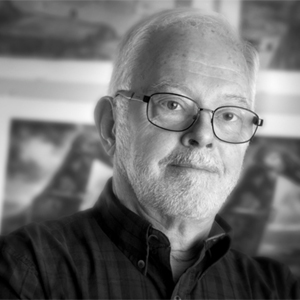 David Blackwood (born in 1941) is considered one of Canada's leading printmakers who has spent the past six decades depicting dramatic landscapes, historical narratives and legends of outport life in Newfoundland.
Born in the outport community of Wesleyville, NFLD, Blackwood received a scholarship to attend the Ontario College of Art in Toronto. It was here that he learned the printmaking techniques and processes that he used throughout his whole career. He also devoted himself to telling the story and histories of the life and people of Newfoundland. His first etching, The Search Party (1963), was selected and purchased by the National Gallery of Canada, which was a tremendous achievement for such a young artist. After graduating in 1963, he became Art Master at Trinity College School in Port Hope and remained there, teaching part time, until 1988.
In 1993, Blackwood was awarded the Order of Canada in recognition for his ongoing and important contributions to the cultural life and heritage of Canada and in 2003 was awarded the Order of Ontario.
His work and life have been the subject of two major retrospective exhibitions and a National Film Board 1974 Academy-Award nominated documentary called "Blackwood". Three major publications have also chronicled his enduring legacy to Canadian art: "The Art of David Blackwood (William Gough, 1988); "David Blackwood: Master Printmaker" (William Gough, 2001); "Black Ice: David Blackwood Prints of Newfoundland" (Katharine Lochnan, 2011).
Countless private, corporate and public collections own his work including the Art Gallery of Ontario, Uffizi, Italy and Her Majesty the Queen.
David Blackwood's etchings are rooted in an oral narrative tradition based on the social values of Newfoundland. Each image illustrates a specific story and conveys his strong connection to the Newfoundland landscape and people. His contrasting use of colour and refined etching technique make David Blackwood's art unique and visually powerful. Images of mummers, shipwrecks, the seal hunt, fisheries and resettlement histories are common themes. "Fire Down on the Labrador" remains his most popular image.
David Blackwood currently lives and works in Port Hope, Ontario, and maintains a studio in Wesleyville, Newfoundland.
(Photo: Stephen Amini)