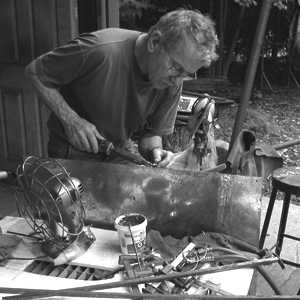 Ed Zelenak is recognized as one of Canada's senior sculptors. Manifest in his art is a subtle spirituality and intimate connection to his materials. He focuses on a familiar iconography of everyday signs and symbols: trees, crosses, arrows, circles, the sun and the moon. By manipulating tin, copper, plastics, wood and pigments, Zelenak creates both minimally delicate and refined sculptures that are also complex and physically rendered.
Born in St. Thomas, ON in 1940, Ed Zelenak studied at the Ontario College of Art and Design from 1957-1959 and then resumed his art studies in 1960-1961 at the Fort Worth Art Centre and Barsch Kelly Atelier in Dallas, Texas. Ed Zelenak began exhibiting in 1963 and was represented by the prominent Toronto gallery Carmen Lamanna Gallery from 1969-1978.
In 1969, Pierre Theberge of the National Gallery of Canada curated the important exhibition "Heart of London", which featured a group of London artists: John Boyle, Jack Chambers, Greg Curnoe, Murray Favro, Bev Kelly, Ron Martin, David Rabinowitch, Royden Rabinowitch, Walter Redinger, Tony Urquhart and Ed Zelenak. This exhibition brought national attention to the "London Regionalist" movement and the artists included.
Ed Zelenak has had public gallery solo shows at the Mendel Art Gallery, Saskatoon in 1981 (curated by Phillip Monk) and "Ed Zelenak: Finding a Place" at the London Regional Art and Historical Museum in 1989 (Curated by Marnie Fleming). Currently, from May 2 – August 16, 2015, Ed Zelenak has a 40-year retrospective exhibition at Museum London featuring early fiberglass sculpture through to recent two-dimensional work.
Zelenak's artwork is included in countless Canadian public collections including the National Gallery of Canada, Art Gallery of Ontario, Art Gallery of Alberta, Mackenzie Art Gallery, Art Gallery of Hamilton, Museum London and the McIntosh Gallery. International collections include the Musee Cantonal des Beaux Arts, Lausanne, Switzerland, Chicago Athenaeum, and the Czech Museum of Fine Arts, Prague.
Ed Zelenak lives and maintains a studio in West Lorne, ON.