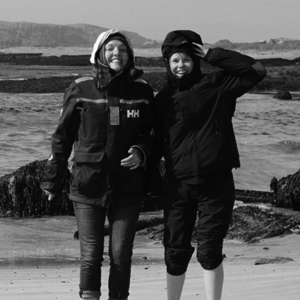 Eyes as Big as Plates is a photography series produced in collaboration with over fifty seniors from ten countries. Starting out as a play on characters from Nordic folklore, the series has evolved into a continual search for modern human's belonging to nature. Each character inhabits the landscape in wearable sculptures made from natural materials.
We are Riitta Ikonen (b.1981) and Karoline Hjorth (b.1980), a Finnish-Norwegian artist duo behind the ongoing collaborative art project Eyes as Big as Plates. Karoline is a photographer with a journalism and tall-ship sailing background and Riitta is a Finnish artist with an MA from the Royal College of Art, who grew up in the deep Finnish forests. We met and started collaborating at an artist residency in Norway in 2011 after Riitta, in search of a collaborator, typed in: Norway + Grannies + Photographer into an Internet search engine and found Karoline as the top search result (she had just published a book on Norwegian grandmothers). Our very first meeting took place on the doorstep of a 20 m² flat in the small town of Sandnes, southwest of Norway.
Part sculpture, part installation and part photography, we come up with one image from two heads and create it with our different complementing skills. Karoline is the photographer in this duo while Riitta works mainly with the creation of the wearable sculptures in the images. We work together from beginning to the end of the process.
Many people who see our images wonder why we portray older people. We believe much of the western society is unnecessarily confused when it comes to the 'usefulness' of older people. Attitude with knowledge, life experience and stamina are some of the main traits we have found amongst all our collaborators, as well as a formidable curiosity for new experiences. As the project continues to cross borders, it also aims to rediscover a demographic group too often labeled as marginalized, and generate new perspectives on who we are and where we belong.
Starting out as a play on characters from Nordic folklore and the personifications of nature in the lore, we wanted to find out what kind of connection the Norwegians had with their rocks, fjords and hills. Those hills haven't changed since the tales, but the people sure have. We figured that the older the local interviewee/model, the closer we would get to the talking rocks of the tales.
The series is produced in collaboration with retired farmers, fishermen, zoologists, plumbers, opera singers, housewives, artists, academics and ninety-year-old parachutists. These are people we meet through friends, relatives and newspaper ads, in hardware stores, noodle bars, indoor gardening society meetings, swimming pools, senior centers, on the city streets etc.
The title Eyes as big as Plates is inspired by characters from Scandinavian folklore and is a tribute to imagination and curiosity.
Each image in the series presents a solitary figure in a landscape, dressed in elements from surroundings that indicate neither time nor place. Nature acts as both content and context and the characters literally inhabit the landscape wearing sculptures made in collaboration with the two of us.
So far the series include works produced in Norway, Finland, Iceland, Sweden, The Faroe Islands, France, UK, US, Japan and Greenland, with Portugal, Czech Republic and Germany scheduled for 2016.
The series has been exhibited in solo and group show in New York, Helsinki, Paris, Leeds, Tokyo, Glasgow, Oslo, Stockholm, Bogota, Torshavn, Seoul, Nuuk and Miami to mention a few, and is currently on tour with a custom-made workshop with the Norwegian National Museum. The project website has over 300.000 visitors from worldwide and the series has been covered widely in the press, including features in the TIME Magazine Lightbox, Huffington Post, BBC, Conveyor Art (US), Internazionale (IT), Artlink Australia, Life Magazine (Hong Kong), Quotation (Japan), Vice Magazine (Colombia), SVA Magazine (NO), Fanfare (NO), NRK Nasjonalgalleriet (NO) amongst others.