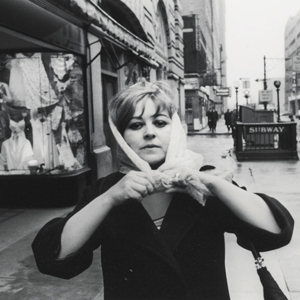 Joyce Wieland (1930-1998) was a prominent figure in the Canadian art scene from the 1960s to the 1980s best known for her radical textile works and cutting-edge experimental films.   She celebrated the Canadian national identity and focused on feminist issues by using traditional women's media such as quilts and sewn collages.
Born in Toronto, Wieland attended Central Technical School, where she studied commercial art and graphic design.  One of her teachers, artist Doris McCarthy, inspired Wieland to pursue an artistic career.  In the 1950s Wieland developed an interest in art films and started attending Toronto Film Society screenings and learned animation techniques that she would apply to her own films.
In 1960 she had her first solo exhibition at Isaacs Gallery.   At the time, her work was influenced by Pop and conceptual art, though was always original and idiosyncratic.  Writer Joanne Sloane in "Joyce Wieland: Life & Work" states that Wieland's work from the 1960s was: "quasi-abstract paintings that reveal messages, signs, or erotic drawings; collages and sculptural assemblages; filmic paintings; disaster paintings; plastic film-assemblages; quilts and other fabric-based objects; and language-based works."
Between 1962-1971 she lived in New York City with her husband and fellow artist Michael Snow.  There she immersed herself in the underground filmmaking community and created one of her best-known films, "Rat Life and Diet in North America" (1968), a farce on Vietnam War draft dodgers.   The film highlights Wieland's political issues and her ideas about nationalism.
When Wieland returned to Canada she created a strong body of work that was patriotic in subject.   In one of her most famous images, "O Canada" (1970), Wieland wears red lipstick and "sings" the Canadian national anthem by pressing her lips to the paper.  Quilted works such as "The Maple Leaf Forever" (1972) and "Reason over Passion" (1968) and "Confedspread" (1967) also remain iconic works that broke conventions and introduced ideas that contributed significantly to contemporary art in Canada.
In 1971 the National Gallery of Canada organized a retrospective of her work, the first ever for a female artist.  Again in 1987, the Art Gallery of Ontario organized a retrospective of her work, their first solo exhibition for a living woman artist.
Joyce Wieland passed away in 1998.
Her work is in the collections of the Art Gallery of Ontario and the National Gallery of Canada among countless other public collections across Canada.
(Photo: John Reeves)