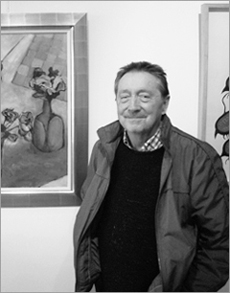 Richard Gorman (1935-2010) was one of the 2nd generation of abstract Toronto artists who was known for his broadly gestured, abstract landscape paintings.
Born in Ottawa ON, Gorman's first art classes were at the National Gallery of Canada.   He then studied under Jock Macdonald at the Ontario College of Art and Design, graduating in 1958.   His first one-person exhibition at the Isaacs Gallery in Toronto in 1959 brought attention to his work and he was closely associated with the Isaacs Gallery artists until 1964.
Working in thick impasto and dramatic colours, his paintings have been described as "big attack" paintings. Action painting created an emotive expression that Gorman captured with both gesture and bold colour. His first abstractions evoked the landscape, but later in the 1980s returned to abstraction.
Along with painting, Gorman also made aluminum sculptures, experimented with film and is known for his magnetic prints that he created using a magnet, ink and paper.
Joan Murray produced a book and travelling exhibition of Gorman's work in 1990. His work has been included in group exhibitions like Dennis Reid's Toronto Painting 1953-1965, organized for the National Gallery in 1972, and more recently in the National Gallery's Crisis of Abstraction: the 1950s, organized by Denise Leclerc in 1993
Gorman is in the public collections of the National Gallery of Canada, Art Gallery of Ontario, Queen's University, Department of Transport at the Edmonton Airport; Department of External Affairs; Victoria and Albert Museum, London, England.