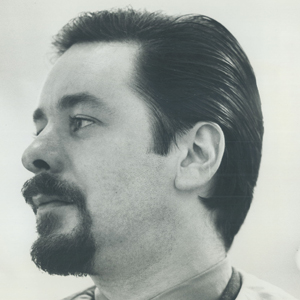 Graham Coughtry (1931-1999) was best known for his lush paintings of the abstracted human figure.
Born in Saint-Lambert, Quebec, Coughtry studied at the Montreal Museum of Fine Arts School and later the Ontario College of Art. In 1953 he received a travelling scholarship, which took him to France and Spain where the artists Pierre Bonnard and Alberto Giacometti deeply influenced him. Over his life, he would continue to live between Toronto and Ibiza, Spain.
In 1955, his first exhibition was with Michael Snow at Hart House, University of Toronto and his first solo exhibition the following year at Greenwich Gallery (later Isaacs Gallery). Coughtry became a well-known member of the "Isaacs Group" of artists along with Michael Snow, Joyce Wieland, Dennis Burton, Gordon Rayner and John Meredith. The artists shared an affinity for Dadaism and jazz and joined by the "radicalism" of their art.
In the late 1950s and early 1960s, Coughtry began painting abstract portraits that were intended to create a presence or reality of the sitter.  He famously declared: "every damn tree in the country has been painted" and devoted himself to figurative and abstract painting. Influenced by his trips to Europe and the work of Giacometti, Willem de Kooning and Francis Bacon, he liked the attitude of the figure in space and the space created between you and the figure.
He is well known for his "Two Figure Series" of paintings, which he started in 1961. Rich and sensual, the paintings have thick empasto and sweeping gestures depicting two figures interwoven with each other. They remain his most sought after works.
Graham Coughtry's artwork is in the collections of the Art Gallery of Ontario, Detroit Institute of Arts, MoMA, NY, Vancouver Art Gallery and National Gallery of Canada among others.
He passed away in 1999 in Toronto at the age of 67.
(Photo: Reg Innell, Toronto Star)