Art Toronto 2020 – October 28 – November 7, 2020
---
Noon – 6pm
Pop Up @Stephen Bulger Gallery, 1356 Dundas Street West, Toronto, ON
From October 28 – November 7, in celebration of Art Toronto 2020, five galleries from across Canada, including Michael Gibson Gallery will come together in a collaborative effort to showcase some of Canada's best artists.  The guest galleries are designing a small-scaled art fair inside of the Stephen Bulger Gallery.  Visitors can look forward to curated collections highlighting work by represented artists and rare artworks from the secondary market.
As a special feature, the animatronic figures from Ontario Place's decommissioned Wilderness Adventure Ride who, since meeting Max Dean, have embarked on an odyssey in search of a new home. As part of that search, these lads have rethought the photo studio in light of the covid situation. They have become aware of how vulnerable we all are yet acutely aware of our need to interact. Also our need to record and remember these challenging times and how we managed to navigate the restraints imposed on ourselves both external and internal.
Spontaneous visits are welcome, but appointments are encouraged.  Entry will be timed to every 30 minutes for groups of 1-5 persons to allow for social distancing.  We have a limit of 10 visitors in the gallery at any one time. Please call Stephen Bulger Gallery 416-504-0575 to book an appointment.  Once inside, we are able to circulate people through multiple times without the need to reverse course.
The Stephen Bulger Gallery will be adhering to the City of Toronto health guidelines and is restricting occupancy. Masks are mandatory, and the gallery will provide hand sanitizer upon entry. Prospective guests should also note that a non-contact infrared forehead thermometer scan will also be mandatory upon entry.
Please take a minute to watch THIS video demonstrating the new protocols we have put in place to ensure you have a safe visit.
We look forward to social distancing with you!
Participating Galleries and Artists:
Michael Gibson Gallery (London, ON)
Keiran Brennan Hinton, Greg Curnoe, Susan Dobson, Gathie Falk, Jonathan Forrest, Krisjanis Kaktins-Gorsline, Jason McLean, Michael Snow, Hans Wendt
Pierre-François Ouellette art contemporain (Montréal, QC)
Hanna Claus, Mark Clintberg, Dil Hildebrand, John Latour, Marie-Jeanne Musiol, Benny Nemerofsky Ramsay, Roberto Pellegrinuzzi, Ed Pien, Chih-Chien Wang, Ripley Whiteside
Stephen Bulger Gallery (Toronto, ON)
Max Dean, Wendy Ewald, Claudia Fährenkemper, Joseph Hartman, Sarah Anne Johnson, Minna Keene, Rita Leistner, Arnaud Maggs, Adam Magyar, Sanaz Mazinani, Guillaume Simoneau, Jeff Thomas, Larry Towell, and selections from the personal collection of John Cleary, courtesy Charles Hartman Fine Arts
TrépanierBaer Gallery (Calgary, AB)
Vikky Alexander, Iain Baxter, Mike Bayne, Oscar Cahén, James Carl, Chris Cran, Brandan Dotty, Alicia Henry, Stéphane La Rue, Carroll Taylor Lindoe, Luanne Martineau, Ron Moppett, Evan Penny, Sarah Stevenson
Wil Aballe Art Projects / WAAP (Vancouver, BC)
Kim Kennedy Austin, Steven Cottingham, Daniel Giordano, Francisco-Fernando Granados, Vanessa Dion Fletcher, Maegan Hill-Carroll, Lyse Lemieux, Kate Metten, Ryan Quast, Nicolas Sassoon, Patryk Stasieczek, Julia Rose Sutherland, Mark Verabioff, Nico Williams, Paul Wong
---
MGG Pop-Up Press
Toronto Life chooses Michael Snow's "Walking Woman in the Subway" as the 10 most covetable pieces for sale at Art Toronto.  Read HERE
Kate Taylor of the Globe and Mail writes "Toronto's Stephen Bulger Gallery offers a slice of normal – with a side of weirdness – at mini art fair.  Read HERE
Artoronto.ca reviews the Pop Up.  Read HERE
---
Art Toronto Dates & Events
Art Toronto Virtual Preview
October 28 from Noon-Midnight (EST)
A benefit for the Art Gallery of Ontario
Click HERE to purchase tickets
VIP Days
October 29-30
In Person VIP Visit of Art Toronto POP UP @ SBG
October 29 from Noon-6pm EST
Meet and greet the dealers of the Art Toronto Pop Up @ SBG initiative and discover the special selection of works from all over Canada brought together for this occasion:
MICHAEL GIBSON GALLERY (LONDON), STEPHEN BULGER GALLERY (TORONTO), PIERRE-FRANÇOIS OUELLETTE ART CONTEMPORAIN (MONTREAL), TRÉPANIER BAER (CALGARY), WIL ABALLE (VANCOUVER)
By Appointment ONLY
1356 Dundas Street West, Toronto
Public Fair Days
October 31 – November 8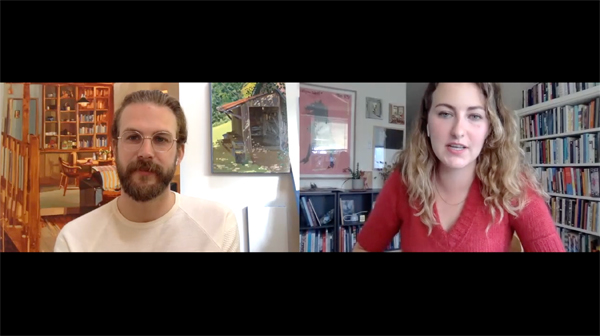 Keiran Brennan Hinton Talk with Tatum Dooley VIP Online Event
Friday, October 30 at 1pm EST
Join artist Keiran Brennan Hinton and curator Tatum Dooley as they discuss Keiran's new vibrant paintings that will be featured in our Art Toronto booth. Now living in a renovated old school house north of Kingston, Brennan Hinton spent the summer painting intimate interior views and lush plein-air paintings on the remote property. Dooley and Brennan Hinton will talk about his recent move from New York to Canada, his love of painting and how his immediate surroundings affect his work.
Watch video HERE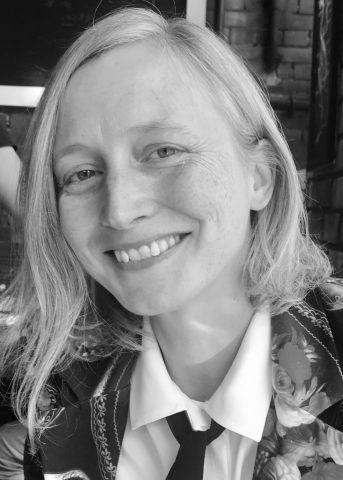 Sarah Stanners on Jack Bush Public Online Event
Sunday, November 1 at 1pm EST
Join director of the Jack Bush Catalogue Raisonne Sarah Stanners and Michael Gibson as they discuss the monumental Jack Bush 1973 painting "London #8". Dr. Stanners will provide a background on the "London" series and explain how 1973 was the beginning of a pivotal shift in Bush's international career.
Watch conversation HERE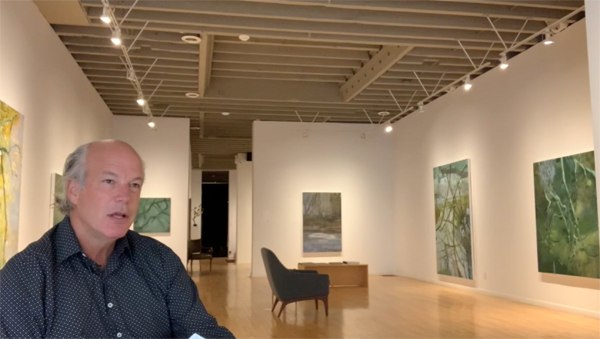 Michael Gibson's Intimate Tour of the Gallery VIP Online Event
Sunday, November 1 at 4pm EST
Michael Gibson spent a day with his iPhone sharing thoughts about his career and the art business, while exploring his 170 year old building, including a look at The Woodman Room and Gibson Atelier.  He will share some insights on secondary market buying and selling and how to sort through the contemporary art market in Canada.  The tour will finish with a glass of Pinot Noir and a Q&A period.
Watch tour HERE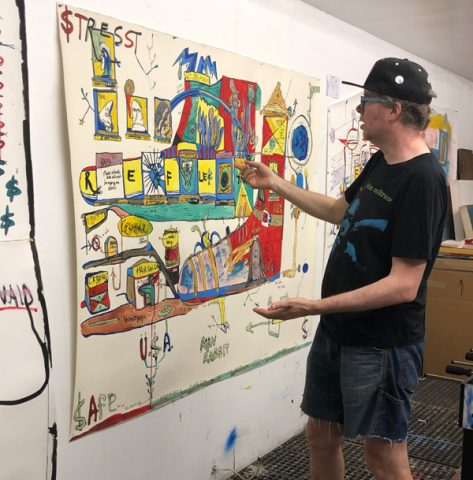 Nation-Wide Gallery Hop Day
Saturday, November 7
Jason McLean will be present in the gallery on Saturday, November 7 from 1-5pm EST. Appointments will be required to attend.
Click HERE to make an appointment
For more information about the events, please click HERE