Tony Urquhart "The Box" – November 26 – December 31, 2022
---
Opening Reception Saturday, November 26 from 2-4pm
Tony Urquhart was best known for his "box" sculptures and meticulous drawings influenced by religious art and architecture.  In our middle gallery for the month of December we are exhibiting a small survey of his playful "box" sculptures dating from 1970-2007 accompanied by select drawings.
Inspired by altarpieces and European church reliquaries, Urquhart created complex multi-media sculptures with doors, wings and knobs.  The painted landscapes and miniature interiors are meant to be engaged with, creating a sense of wonder and discovery that Urquhart is best known for.
Tony Urquhart has a strong connection to London, moving here in 1960 at the beginning of the Regionalist movement.  As the first artist in residence at the University of Western Ontario, he helped hire Western's first visual arts professors, acted as curator of the McIntosh Gallery and was one of the artists who brought national attention to the flourishing art scene.
Growing up in St. Catherine's, Urquhart's artistic influences came more from Buffalo and the New York Abstract Expressionists.  His visceral response to the icons, graveyards and gardens of Europe also fed his unique vision and separated him from the rest of his fellow Isaacs Gallery artists.
The boxes, specifically, combine all aspects of his interests – landscape, architecture and fantasy – and began in 1967.  They quickly became little worlds in themselves that include the spectator and invite participation.  Each one is a small isolated museum of objects, landscapes and ideas, prepared carefully for our discovery.
Tony Urquhart wrote in 2001:
"I have been making box sculptures since 1965 – ones that open since 1967.  A long time ago I learned that it was better to explore ideas and form through a lot of drawing rather than find myself lost – or worse, bored – halfway through a piece."
Tony's drawings and sculptures invite us into an intimate world, filled with romantic landscapes and classical architecture, meditations of a forgotten world.
---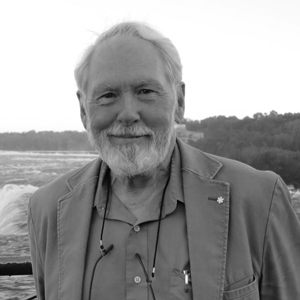 Tony Urquhart (1934 – 2022) was a Canadian pioneer of abstract painting, known for his "box" sculptures and his meticulous drawings and paintings influenced by religious art and architecture.
Born in Niagara Falls, Urquhart trained at the Albright Art School and the State University of New York at Buffalo between 1954-1958. The New York Abstract Expressionists heavily influenced his painting at the time.   His annual trips to Europe (beginning in 1958) also influenced his visual experiences. Attracted to the "otherness" that he encountered in Europe, Urquhart was drawn to the landscape, architecture and pilgrimage sites, such as Lourdes and Vimy Ridge.  He often references images from small country graveyards and humble French villages in his paintings and drawings.
In 1956, at the age of 22, Urquhart joined the Isaacs Gallery in Toronto and quickly became associated with the Isaacs stable of artists including Michael Snow, Joyce Wieland and Graham Coughtry. 1965 was also the time when Urquhart began to make paintings on boxes, three-dimensional paintings typically made out of wood, which ranged in size from 6 inches to 7 feet high. Invited to participate in the artwork, the viewer moves around the artwork to see all sides and can carefully open hinged doors to view the intricately painted interiors.
In 1960 Urquhart was invited by the University of Western Ontario to be the first artist-in-residence. Through his work at the UWO and the McIntosh Gallery, Urquhart was one of the handful of artists who brought national attention to the London art scene in the 1960s. Urquhart stayed at UWO in a teaching capacity until 1972 when he joined the faculty of Fine Arts at the University of Waterloo, where he remained for three decades, retiring in 1999.
Along with Jack Chambers, Kim Ondaatje and Ron Martin, Urquhart helped found CARFAC in 1967, the artists' 'union' that first established a fee schedule for public museum and gallery exhibitions of contemporary artists.
Urquhart's first retrospective "Reunion" was organized by the London Regional Art Gallery in 1970. Two other retrospectives were organized by the Art Gallery of Kitchener in 1978 and the Art Gallery of Windsor in 1988.
Tony Urquhart was named to the Order of Canada in 1995 and won the Governor General's Award in Visual and Media Arts in 2009.
His artwork is in the permanent collections of the Museum of Modern Art, Victoria & Albert Museum, Hirschhorn Collection and the National Gallery of Canada, Art Gallery of Ontario and Montreal Museum of Fine Arts.