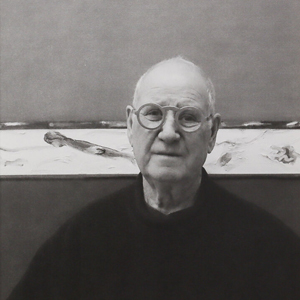 Duncan de Kergommeaux was born in British Columbia in 1927 and attended the Banff School of Fine Arts.  From 1955-1957 he studied with Hans Hofmann where he began to develop a sensibility towards abstraction.  From 1970 – 1993 de Kergommeaux taught in the visual arts department at the University of Western Ontario where he was Chair of the Department from 1981-1984.
De Kergommeaux has had more than 60 solo exhibitions and over 100 group exhibitions since 1953 including exhibiting at various Biennials of Canadian Art and a solo show at the National Gallery of Canada.   In 1967-68, the National Gallery of Canada exhibited his work with George de Niverville in a two-person touring exhibit.
Throughout his career he has enjoyed four survey exhibitions: "An Art of Ordered Sensations" curated by Mathew Teitlebaum in 1986 ; "Process Structure Meaning" curated by José L. Bario-Garay in 1995; "Gridlocked" curated by Katie Cholette in 1999 and "Grid Paintings" curated by Robert McKaskell in 2000.
His work is in the National Gallery of Canada, Art Gallery of Ontario, Museum London, McIntosh Gallery and the Canada Council Art Bank as well as countless corporate art collections.
De Kergommeaux is best known for his landscape paintings of "Lake Huron," his field study "Cow Paintings" and his technical "Grid Paintings".
Duncan de Kergommeaux lives and maintains a studio in Chelsea, QC.