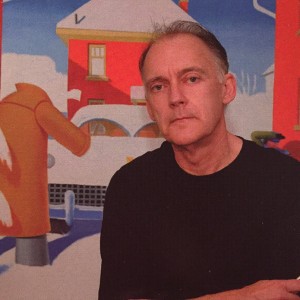 Brian Jones was born in 1950 in Chatham, a small city in south-western Ontario.
Upon completion of his training at H.B. Beal Technical School in London and after a brief apprenticeship with Jack Chambers, Brian became determined to pursue full time painting. From the very beginning, his work depicted people during moments in their everyday lives – walking the dog, shovelling snow, picnicking in the park and visiting the grandparents. His strong narrative quality touched with subtle humour or charged with suspended energy links the artist and the viewer to common experiences mirroring life in Canada during the 50's and 60's.
Initially, a skillful photo-realist, Jones gradually learned that by adding a curve here, a line and some shading there, he could manipulate his images to great effect. By streamlining the figure, adding brighter colours and simplifying his shapes in a more abstract format, Jones developed what would eventually be called his "Neighbours" style.
Brian Jones won many grants and awards, including the Queen's Silver Jubilee award in 1977; OSA Best Oil Award, 1985, and the "Young Achievers" National Award 1982. The artist is represented in many major public collections: Canada Council Art Bank, Museum London, McIntosh Gallery, Confederation Centre Art Gallery, Province of Ontario, City of Toronto Archives and in Corporate and Private Collections throughout Canada, the US and Europe.
Sadly, Brian Jones passed away after a brief illness in 2008.
1950 – 2008 (Born Chatham)
Education
1969 – 71 H. B. Beal Secondary School, Special Art Course, London ON
Solo Exhibitions
2015 "Neighbours", Michael Gibson Gallery, London, ON
2008 "Private Window", Michael Gibson Gallery, London, ON
2004 Loch Gallery, Toronto, ON
2003 Loch Gallery, Toronto, ON
1988-89 Kitchener/Waterloo Art Gallery, Kitchener, ON
1985 Concourse Gallery, Wilfrid Laurier University, Waterloo, ON
1978 London Regional Art Gallery, London, ON
1977 Chatham Cultural Centre, Chatham, ON.
1976 Chatham Cultural Centre, Chatham, ON
1974 – 2002 Nancy Poole's Studio, Toronto, ON
1975 Chatham Cultural Centre, Chatham, ON
Group Exhibitions (Selected)
2004 Spatially Challenged, McIntosh Gallery, University of Western Ontario, London, Ontario
2003 'Small & Mighty' Small works by major artists, Michael Gibson Gallery, London, ON.
2000 "Artist's Group Show", Michael Gibson Gallery, London, ON
2000 Toronto's Own: Celebrating People in Art and Artifacts,Joseph D. Carrier Art Gallery, Toronto
1999 City Wide Canvas: Selections from the City of Toronto's Art Collection, Market Gallery, Toronto, Ontario
2000 'Artist's Group Show' Michael Gibson Gallery, London, ON
1988 'Toronto Harbour' Market Gallery, Poster
1987 'Paintings of People' Memorial University Art Gallery, St. John's, NFLD
1985 Ontario Society of Artists Annual Juried Exhibition, Toronto, ON
1984 Group Show, McIntosh Gallery, University of Western Ontario, London, ON
1980 'London and Area Artists', London Regional Art Gallery, London, ON
1979 'Eleven Other Artists', The Gallery/Stratford, Stratford, ON
1978 Ontario Society of Artists Annual Exhibition, Toronto.
1978 Two-man exhibition, Art Gallery of Brant, Brantford, ON
1977 Young Contemporaries (national traveling exhibition)
1977Queen's Silver Jubilee Collection (touring exhibition)
1976 'London Painting Now' London Public Library and Art Museum, London, ON
1974 "Four Graphic Artists", London Public Library & Art Museum, London, ON
1973 "Figure Variations" Travelling Exhibition
1973 "Realisms" Travelling Exhibition
Awards & Grants
1997 "The Calm After the Storm" chosen for the Hospital for Sick Children greeting card
1985 Award winner in McDonald's of Canada Fine Arts Competition
"Two London Buildings" painting chosen for cover of "Selected Poems of Elizabeth Brewster," Vols. 1 and 2
1985 Best Oil in Show Award, Ontario Society of Artists
1982 Selected as one of Canada's "Young Achievers" and honoured at a ceremony in Ottawa attended by the Queen and the Prime Minister
1978 London Regional Art Gallery Purchase Award
1978 "Winter Neighbours" painting chosen for CANSAVE Christmas Cards
1978 Ontario Society of Artists Purchase Award
1978 Ontario Arts Council Grant
1974-1976 Ontario Arts Council Grant
1974 A.L. Hanna Memorial Award, Thames Theatre and Arts Centre, Chatham, ON
Collections
Confederation Art Gallery, Prince Edward Island
Queen's Silver Jubilee Collection
Canada Council Art Bank
Confederation Centre Art Gallery, PEI
Museum London
McIntosh Gallery, Western University
Via Rail Corporate Collection
Wilfrid Laurier University, Waterloo, ON
Province of Ontario
Crown Life
T. Eaton Company
London Free Press
City of Toronto Corporate Collection