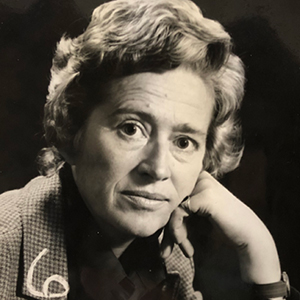 Paddy Gunn O'Brien was born in Carshalton, Surrey, England in 1929.  During the Second World War, at the age of 10, Paddy and her brother Michael were evacuated to Canada.  They arrived in Barrie, ON where she attended girls boarding school.  During her 5 year stay, Paddy adopted many Canadian mannerisms and attitudes and was worried that her parents would not recognize her upon their return.
In 1945 she was back in England and studying art at the Hammersmith School of Art, certain that she would be an artist.  Her parents were sympathetic to Paddy's artistic interests, though preferred that she find a husband and settle down.  Her father was the founder of an athletic club and encouraged Paddy to attend national and international track competitions.  Though by the time the 1952 Olympics trials were being held, she was already in Canada.
In 1951 Paddy graduated with a fine arts degree from Reading University and married Richard O'Brien, a scientist who took a job in the Biology department at the University of Western Ontario in London.
Now back in Canada, Paddy looked for a job that would support her passion for the arts.  She said "work, to me, was just a means of making money.  I was a painter".  She approached the curator of the then London Art Gallery (located on the 2nd floor of the Central branch of the London Public Library), Clare Bice, but he had no job to offer her.  She worked at the circulation desk for 6 months before he hired her as his new assistant.
This "job" began her 38 year career as a "permanent fixture" in the London arts scene.  Planted firmly in mainly male territory, Paddy established herself as a consummate professional curator.  Since she was also a practicing artist, she had empathy when working directly with artists.  She witnessed and fostered the emergence of the London regionalists to national prominence, supported the development of the Museum's collection and the move from the Library to its present location.  Curating 1280 exhibitions during her tenure, she transitioned from assistant curator to Chief Curator upon her retirement in 1989.
Working simultaneously as a practicing artist, Paddy took a year off in 1955 to move to France where she studied at Les Beaux Arts school in Paris.  This traditional artist pilgrimage influenced the colours in her work and deepened her admiration for Paul Cezanne's work.  She exhibited regularly at the Annual Western Ontario Exhibition and won the "Young Artist" award in 1957.  The following year she earned an honourable mention at the Winnipeg Biennial exhibition.  Paddy also exhibited regularly with the Ontario Society of Artists and was elected to their membership in 1976.  Her work is in the collections of Museum London, McIntosh Gallery, London City Hall and private collections in Canada, US and England.
After retiring in 1989, Paddy renewed her active studio practice, returning to the landscapes and seascapes of Lake Huron.  After spending 25 years cottaging at Lake Huron each summer, Paddy was inspired to paint water.  "It seemed natural to combine two things that I really love".  She had the ability to capture Lake Huron's variable atmosphere and light.  She once stated "I am no mere portrayer of pretty landscapes and people.  Life is more than that."  Her compelling paintings are certainly a testament to that statement.
Paddy Gunn O'Brien passed away in 2012 at the age of 82.