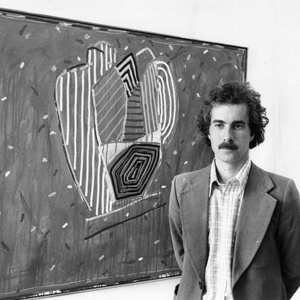 David Bolduc (1945-2010) was born in Toronto and attended the Ontario College of Art for one year and then studied at the Montreal Museum of Fine Arts School (1964-65).  In 1966 he returned to Toronto where he worked in the ROM's conservation department.  A Canada Council grant in 1968 allowed him to leave work and travel in Europe and Asia for eight months.  Throughout his lifetime, he continued to travel extensively, often drawing inspiration from the exotic locations.
Beginning in 1967 Bolduc started showing with Carmen Lamanna Gallery and made work featuring shaped canvases painted in simple geometric colour designs.  By the 1970s, however, he switched his focus to abstract canvases and quickly developed his signature style of drawing directly from the tube painted on top of a colourful stained background.  The bold central image or motif was always set against a textured ground.
Bolduc's work was exhibited extensively during his lifetime, most notably in 1977 at the Hirschhorn Museum, Washington, DC.  The exhibition called "14 Canadians: a Critic's Choice" included 42 works by 14 painters and sculptors and introduced progressive Canadian art to an American audience.
Considered part of the third generation of Toronto abstract painters which included artists such as Alex Cameron and Paul Sloggett, Bolduc remains one of Canada's leading lyrical abstract painters.
His work is in the public collections of the Canada Council Art Bank, Beaverbrook Art Gallery, Art Gallery of Hamilton, Art Gallery of Ontario and the National Gallery of Canada.
(photo: James Lewcun / The Globe and Mail)