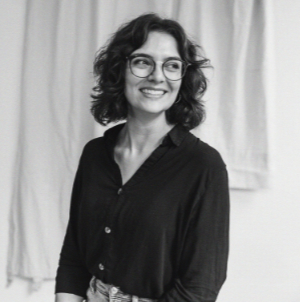 Emerging artist Michelle Paterok was born in Edmonton, AB in 1994.  A recent graduate of Western University's MFA program in 2022, she also has a BFA in Art and Design from the University of Alberta in 2016.
Since 2013, Paterok has presented her work in solo and duo exhibitions in Canada, Greece, and Japan and was the Canadian Artist in Residence at the Vorres Museum in Paiania, Greece in 2018.  More recently, she attended the Vermont Studio Centre artist residency in June 2023.
Her work has been supported by the Alberta Foundation for the Arts, Ontario Arts Council and an Elizabeth Greenshields Foundation Grant in 2023.
She lives and has an active studio practice in London, ON.
"My 2022 MFA thesis project, "At Dusk," explored the poetics of colour and light in the context of domestic space, informed by philosopher Timothy Morton's idea that our current historical moment is haunted by a sense of unreality: "Being in a place, being in an era, for instance an era of mass extinction," Morton writes, "is intrinsically uncanny." My newest body of work, "To Neither Quite Belonging," expands on these ideas, but shifts from interior spaces to the landscape.
"To Neither Quite Belonging" takes its title from an excerpt of the poem At Sundown by Rainer Maria Rilke. Describing sundown, Rilke writes:
You watch how gradually the landscape's contours change,
some rising heavenward as others downward fall;
leaving you alone, to neither quite belonging.
The basis of this project comes from my experience of getting lost in a forest last autumn. On a cold evening, surrounded by trees and off trail, I was without a reliable map and unsure of the path toward my destination. With sunlight growing dimmer and a dark blue haze cast over the trees, sounds I'm used to hearing—rustling leaves and cracking branches on the forest floor—found a new, more anxious tenor. In these circumstances, my ordinary surroundings took on an otherworldly tone. This feeling is encapsulated by a French expression for twilight, "entre chien et loup." Translating as "between dog and wolf," it denotes a time when lighting conditions are such that one can't distinguish between a dog and a wolf—between what is familiar and unfamiliar, real and unreal, safe or threatening.
The environment, once familiar, suddenly turned mysterious, oneiric. Natural sources of light or reflective surfaces—moonlight through trees, dew on the foliage, fireflies—took on a particular significance. My new paintings explore this specific atmospheric effect, mining the invocations of the quality of light within this transitory period of time."